The 2012 Vice Presidential Debate

10/05/12 17:03, by
OGRE / (Jeff)
, Categories:
Welcome
,
News
,
Background
,
In real life
,
Politics
,
Health Care
,
U.S. Economy
,
Elections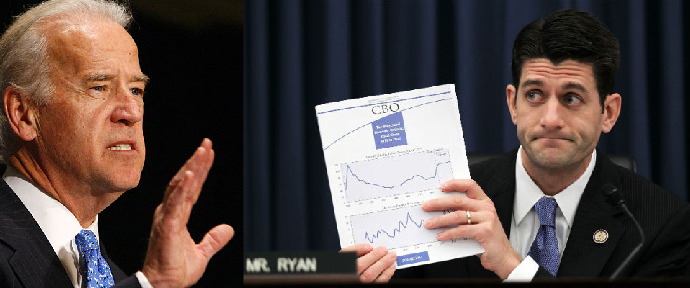 Biden and Ryan
Vice President Joe Biden and Congressman Paul Ryan will debate on Thursday, October 11, 2012.
Topic: Foreign and domestic policy
Air Time: 9:00-10:30 p.m. Eastern Time
Location: Centre College in Danville, Kentucky
Sponsor: Commission on Presidential Debates
Participants: Vice President Joe Biden and Congressman Paul Ryan
Moderator: Martha Raddatz (ABC News Chief Foreign Correspondent)

The debate will cover both foreign and domestic topics and be divided into nine time segments of approximately 10 minutes each. The moderator will ask an opening question, after which each candidate will have two minutes to respond. The moderator will use the balance of the time in the segment for a discussion of the question.
Joe Biden is beyond goofy --to the point that Biden is seen by our enemies as a weakness. I don't know about you but that's a pretty embarrassing position to be in. Here is a list of some Biden gaffes.
Before his death, Osama bin Laden boldly commanded his network to organize special cells in Afghanistan and Pakistan to attack the aircraft of President Obama and Gen. David H. Petraeus.

"The reason for concentrating on them," the al-Qaeda leader explained to his top lieutenant, "is that Obama is the head of infidelity and killing him automatically will make [Vice President] Biden take over the presidency. . . . Biden is totally unprepared for that post, which will lead the U.S. into a crisis. As for Petraeus, he is the man of the hour . . . and killing him would alter the war's path" in Afghanistan.
Expectations for Joe Biden are extremely low. Biden needs to make it through the debate without using profanity, accidentally trashing the president and remember that he's at Centre College in Danville, Kentucky. If he can keep it together for 90 minutes, the media will report that Biden looked very "statesman-like" --presidential even.
You will also notice that there will be little attention paid to substance when referring to Biden during the debate. Most of the focus will be placed on Biden's "experience" not what is said during the debate.
After the debate; be prepared to hear the most insane reasons for why Biden lost the debate. At least, that's my guess on how it's going to go down.
Note: You DO NOT need to register to leave a comment.
Follow The WindUpRubberFinger on Twitter!