Mike Lindell Must Be Punished and YOU'RE NEXT!

01/19/21 18:34, by
OGRE / (Jeff)
, Categories:
Welcome
,
News
,
Background
,
In real life
,
On the web
,
Politics
,
Strange_News
,
Elections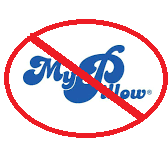 I find it interesting that so many leftists are attacking Mike Lindell. Moveon.org is calling for a petition to get more people to boycott of MyPillow, Mike Lindell's product line.
The CEO of MyPillow, supports thee racist, sexist, and homophobic policies of Donald Trump When you purchase his products, you support those policies. A nation-wide boycotted, must be initiated to protest by strong NON-violent means. Do not patronise this company.
There's a Facebook page dedicated to boycotting MyPillow.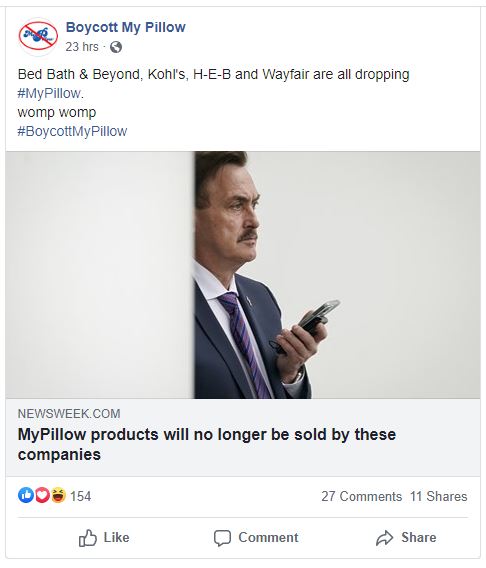 Now you have a major retailors removing Mike's products from their shelves.
Lindell has maintained that fraud led to President Donald Trump's losing the election in November. He has used his Twitter account, where he has nearly 474,000 followers, and the MyPillow account to specifically spread falsehoods that machine voter fraud led to President-elect Joe Biden's victory.

Claims of voter fraud have been widely rejected.

Election experts have uniformly declared that the 2020 election was conducted fairly. A union of every senior federal and state official who oversaw the election declared it "the most secure in American history."
There is one simple thing to take from this. I understand that Dominion is suing Mike Lindell, that's the response you would expect. But that's not where this stops. If it were simply a matter of Mike spreading false information, the lawsuit would suffice. But the leftists don't stop there, they're trying to destroy his business. Why go so far?
It's odd that people are cheering this. Because right now it's Mike Lindell, is there any doubt that they won't do the same thing to private citizens?
In fact, they're already setting up for that right now, calling for an army of citizens to monitor and report Trump supporters.
The greatest threat facing America today comes from within: radical extreme conservatives, also known as domestic terrorists. They're hidden among us, disguised behind regular jobs. They are your children's teachers. They work at supermarkets, malls, doctor's offices, and many are police officers and soldiers.

"I'm proposing we form a citizen army," he says. "Our weapons will be computers and cell phones. We who are monitoring extremists on the internet and reporting their findings to authorities."

Outrageously, the clip then compares this "army of citizens" against Trump supporters to the monitoring and discovery of arch-terrorist Osama bin Laden.

"No one in #TrumpsNewArmy should be given a pass," he wrote in one tweet while clarifying in another that members of "Trump's New Army" include Sen. Ted Cruz, Sen. Josh Hawley and GOP Rep. Lauren Boebert.

Many on the left have already begun promoting the clip and encouraging viewers to sign on.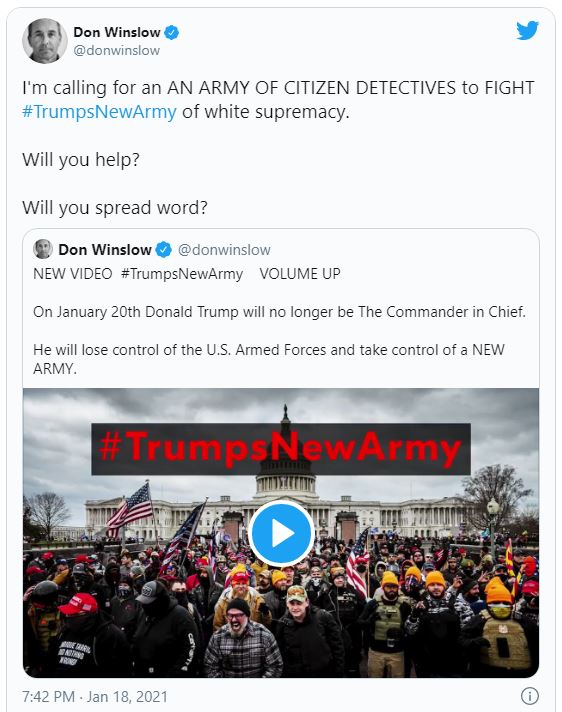 This is where we are headed as a country. All the talk of "unity" is a false narrative. There will only be "unity" when all of the conservatives have been silenced.
Note: You DO NOT need to register to leave a comment.
No feedback yet

Comment feed for this post
Leave a comment