The American Medical Association, Aspirin, And COVID-19

10/12/21 23:38, by
OGRE / (Jeff)
, Categories:
Welcome
,
News
,
Background
,
In real life
,
On the web
,
Health Care
,
Strange_News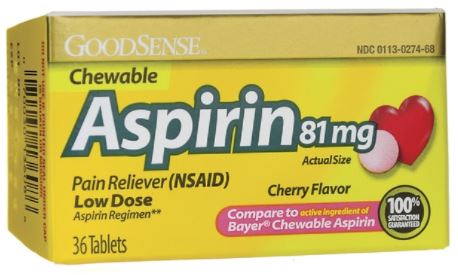 We have heard for many years now that low dose aspirin can be helpful in reducing the risk of heart attack and stroke in both high risk individuals and in general. But now, all of a sudden, that is no longer the case? Aspirin hasn't changed, so what did?
Task Force Issues Draft Recommendation Statement on Aspirin Use to Prevent Cardiovascular Disease
People 40 to 59 should decide with their clinician whether to start taking aspirin; people 60 or older should not start taking aspirin.

Based on new evidence since the 2016 Task Force recommendation, it is now recommended that once people turn 60 years old, they should not consider starting to take aspirin because the risk of bleeding cancels out the benefits of preventing heart disease. The latest information also shows a closer balance of benefits and harms than previously understood for people in their 50s and that starting aspirin use as young as 40 years old may have some benefit.

"Daily aspirin use may help prevent heart attacks and strokes in some people, but it can also cause potentially serious harms, such as internal bleeding," says Task Force member John Wong, M.D. "It's important that people who are 40 to 59 years old and don't have a history of heart disease have a conversation with their clinician to decide together if starting to take aspirin is right for them."

This recommendation only applies to people who are at higher risk for CVD, have no history of CVD, and are not already taking daily aspirin. When deciding whether patients should start taking aspirin to prevent a first heart attack or stroke, clinicians should consider age, heart disease risk, and bleeding risk. It is also important to consider a patient's values and preferences. If someone is already taking aspirin and has any questions, they should talk to their clinician about their individual circumstances.
The guidance went from one low dose aspirin a day, to "promote a health lifestyle." It's not as if doctors were promoting an unhealthy lifestyle before. Doctors weren't recommending that people take aspirin daily and continue to eat poorly and just sit around and don't exercise. Something had to have changed.
Aspirin lowers risk of COVID: New findings support preliminary Israeli trial
Over-the-counter aspirin could protect the lungs of COVID-19 patients and minimize the need for mechanical ventilation, according to new research at the George Washington University.

The team investigated more than 400 COVID patients from hospitals across the United States who take aspirin unrelated to their COVID disease, and found that the treatment reduced the risk of several parameters by almost half: reaching mechanical ventilation by 44%, ICU admissions by 43%, and overall in-hospital mortality by 47%.

"As we learned about the connection between blood clots and COVID-19, we knew that aspirin – used to prevent stroke and heart attack – could be important for COVID-19 patients," said Dr. Jonathan Chow of the study team. "Our research found an association between low-dose aspirin and decreased severity of COVID-19 and death."

Low-dose aspirin is a common treatment for anyone suffering from blood clotting issues or in danger of stroke, including most people who had a heart attack or a myocardial infarction. Although affecting the respiratory system, the coronavirus has been associated with small blood vessel clotting, causing tiny blockages in the pulmonary blood system, leading to ARDS - acute respiratory distress syndrome.

Israeli researchers reached similar results in a preliminary trial at the Barzilai Medical Center in March. In addition to its effect on blood clots, they found that aspirin carried immunological benefits and that the group taking it was 29% less likely to become infected with the virus in the first place.

"Aspirin is low cost, easily accessible and millions are already using it to treat their health conditions," said Chow. "Finding this association is a huge win for those looking to reduce risk from some of the most devastating effects of COVID-19."
We know, and have known for 20+ years, that aspirin is beneficial to people with cardiovascular issues. And aspirin has been around commercially since 1899, when Bayer trademarked the name. It's not like aspirin hasn't been well studied. It's taken 122 years of study to determine that aspirin might cause intestinal bleeding? But the new vaccines are completely safe right? It's been one year, and the vaccines are proven safe, but it's taken "science" 122 years to determine that an aspirin regimen could be dangerous. Just think about that for a minute.
Doesn't it seem strange that guidance comes out with literature stating that doctors should stop prescribing low dose aspirin to those at lower risk of cardiovascular disease, right around the same time that they come out with studies showing that low dose aspirin can improve COVID outcomes?
Is this coincidence? I'll leave that up to you to decide.
Better stock up on aspirin, because that might be the next thing they are going to restrict!
What do you think?
Note: You DO NOT need to register to leave a comment. Email addresses are NOT used. Just make one up "someone@somehost.com"
No feedback yet

Comment feed for this post
Leave a comment