A Plan to Replace US Service Members with Noncitizens?

07/14/22 04:03, by
OGRE / (Jeff)
, Categories:
Welcome
,
News
,
Background
,
In real life
,
Politics
,
Illegal Immigration
,
Elections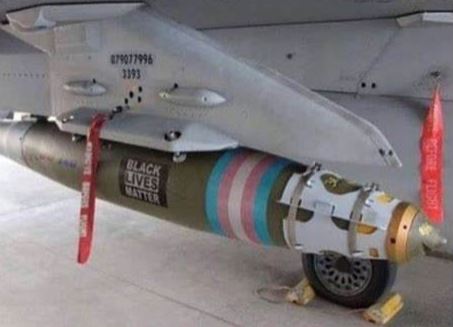 I'm going to keep this short.
A few things are happening that drive me to this conclusion.
The purge that is now underway will hollow out the military, leaving those who were forced to be vaccinated questioning their leaders, and making military service far less attractive to America's sons and daughters.
The vaccine mandates guarantee to get rid of a lot of service members. Those most likely to resist the mandate are those who understand their constitutional rights, and are also more likely to be conservative. Make no mistake -- this is a "purge."
2. Woke culture in the military.
"We face real threats across the world, yet the Biden administration is more focused on promoting its leftist social agenda in the military instead of countering China, Russia and Iran or creating an effective counterterrorism plan," the senators said in the letter provided to Fox News Digital. "Our military is not an extremist organization, and our service members, by and large all good people, are dedicated, faithful patriots."
The woke training requirements will help to keep recruitment of American citizens down. I couldn't imagine meeting anyone who is joining the US military -- because they want to learn about equity. It makes no sense, and is a waste of time. Military readiness is what's important, not making people "feel like they belong."
However, it does make sense if you want to make sure that you're recruiting the "right" people, and military readiness is not your true goal.
3. Recruitment numbers are down.
So, are we facing a military recruitment crisis? Statistics show that most branches of the military continue to meet their goals. Keep in mind, though, that those goals are getting smaller.

Right now, the perfect storm for a crisis exists, but it hasn't started raining, yet.

It's time to start grabbing those umbrellas and creating new strategies to recruit. Otherwise, we will have an issue soon.
It's obvious as to why recruitment numbers are down. Everybody knows this, and it's no mistake. It's being done on purpose. A good question would be, "How can carrier military personnel maintain their positions, while abdicating their duty?" You tell me.
4. US Army lowers standards for recruitment purposes.
The Army is tossing its mandate for potential recruits to have a high school diploma or GED certificate to enlist in the service, in one of the most dramatic moves yet in the escalating recruiting crisis hitting the entire Defense Department.

On Thursday, the service announced that individuals may enlist without those previously required education certifications if they ship to basic training this fiscal year, which ends Oct. 1.

Recruits must also be at least 18 years old and otherwise qualify for a job in the active-duty Army. They also must score at least a 50 on the Armed Services Vocational Aptitude Battery, or ASVAB, an SAT-style quiz to measure a potential recruit's academic ability.

A 50 on the test is a relatively low score, with 31 being the minimum to qualify for service. Combat arms jobs such as infantrymen and cavalry scouts need only minimal scores to serve, while admin work such as a human resources specialist or public affairs require scores of 100 or higher.
A high school diploma is no longer required to join the Army. Who doesn't have a high school diploma -- all of the illegals who just flooded over the border. Considering that many illegal immigrants will have very little work skills, where do you think they might go for employment?
This is obviously a plan of some sort to replace US military members with foreign noncitizens. I can see no other reason for what is happening.
Tell me what you think.
Please leave a comment, like it or hate it... You DO NOT need to register to leave a comment. Email addresses are NOT used. Just make one up "someone@somehost.com"
1 comment
Comment
from: Michael Lee Shirey [Visitor]
Time to have a personal conversation (s) with our Creator. I don't see how Mankind can endure a GOD-less World. I sure do need HIS protection against the Fiery Darts satan hurls at me daily. We have power over satan in the name of Jesus. satan doesn't stand a chance. Be sure you don't answer the door when he knocks. He's going to keep on knocking until the return of Jesus. Eph.6. Amen
08/18/22 @ 08:29

Comment feed for this post
Leave a comment